Rev. Casimir C. Kicmal
Mar. 11, 1926 - Feb. 6, 2004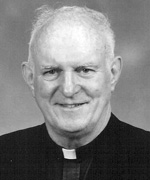 Fr. Casimir (Casey) C. Kicmal, CSV died on Friday, February 5, 2004 at the age of 78. He was born in Chicago, Illinois on March 11, 1926 and was the son of Valentine Kicmal and Agnes Skowronek Kicmal.  He was preceded in death by his parents, and four brothers, Joseph, John, Stanley and Walter.  He is survived by one sister, Sophie Wozny and many nieces and nephews.
Fr. Kicmal professed First Vows as a Viatorian on August 15, 1950, Final Vows on August 15, 1954 and was ordained to priesthood in Techny, Illinois on June 9, 1957 by Bishop O'Brien.
He attended Bancroft High School in Chicago (1940-41) and graduated in 1949 from Schurz High School Chicago, Illinois, under the G.I. accelerated program.  He attended St. Ambrose College, Davenport, Iowa (1950-53), where he earned a B.A. in Speech.  He attended Marquette University, Milwaukee, Wisconsin (1964-69) for credit in Spanish and DePaul University in Chicago (1958-59).  Fr. Kicmal studied for the seminary at Regina Angelorum Seminary in Arlington Heights, Illinois and Evanston, Illinois (1955-58).
During his ministry, Fr. Kicmal served the Church as educator, associate pastor and parochial vicar.  His first assignment was to St. Ambrose Academy, Davenport, Iowa (1953-54), where he served as a high school teacher.  He also taught at St. Patrick High School, Kankakee, Illinois, (1959-62), Griffin Boys High School in Springfield, Illinois (1962-72), and Bishop Gorman High School, Las Vegas, Nevada (1972-76).  He was assigned as associate pastor to St. Anne Church, Las Vegas Nevada (1976-78) and to Our Lady of Las Vegas, Las Vegas, Nevada (1978-83).  In 1983, he lived at the Viatorian Residence in Las Vegas (1983-87), where he helped in various parishes.  In 1987, he became parochial vicar at St. Joseph Church & Holy Family Church, Granite City, Illinois.  He remained there until his retirement in 1994 to the Province Center in Arlington Heights.  In 1998, Fr. Kicmal moved to Resurrection Life Center, Chicago, Illinois, where he resided until his death.
Visitation was held Monday evening, February 9, 2004 at the Province Center, 1212 E. Euclid Avenue, Arlington Heights, IL 60004 from 6-9 p.m. and Tuesday morning, February 10, 2004 from 9-11 a.m.  A funeral Mass was celebrated at 11 p.m., followed by a luncheon.  Burial was in the Viatorian Community plot at Queen of Heaven Cemetery, 1400 South Wolf Road, Hillside, Illinois.
Please remember our brother Casey, his family and the Viatorian Community in your prayers.
Taken from letter to the Viatorian Community, February, 2004, from the Provincial, Rev. Charles G. Bolser, CSV