Rev. Joseph L. Donahue
Apr. 23, 1905 - Dec. 7, 1981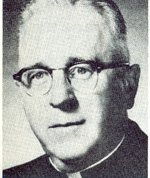 Rev. Joseph Donahue, CSV, died at the age of 76 of heart attack on Monday December 7, 1981 while preparing to give a talk at a seminar of the United Brotherhood of Carpenters in Oak Lawn, Illinois.  Father Donahue was in the 48th year of his religious life and the 41st year of his priesthood.
A wake was held on Wednesday, December 9, 1981, at Egan Funeral Home, 3700 West 63rd  Street, Chicago, Illinois, from 4:00 p.m. to 10:00 p.m., and on Thursday, December 10th , from 10:00 a.m. to 10:00 p.m., with wake service at 8:00 p.m. at which Father Patrick Toomey was the homilist.
A mass of resurrection was held at Mary Star of the Sea Church, 6435 South Kilbourn Avenue, Chicago, Illinois, on Friday, December 11, at 10:30 A.M.  Father Kenneth Morris, Provincial, was the principal celebrant and gave the homily.  Burial was held at Holy Sepulchre Cemetery, Worth, Illinois.
Please remember Father Donahue in your masses and prayers.
Taken from Viatorian Newsletter #586-2, December 1981 and a Provincial letter from Rev. Kenneth Morris, CSV.