Arlington Heights:
Saint Viator High School
1213 East Oakton Street
Arlington Heights, IL 60004
Phone: 847-392-4050
Fax: 847-392-4101
Website: www.saintviator.com
The Clerics of St. Viator founded Saint Viator High School as a school for young men in 1961 in an effort to fulfill their commitment to the Christian education of youth. In 1987, Saint Viator High School merged with Sacred Heart of Mary of Rolling Meadows to become a co-educational institution.  Saint Viator High School is a Catholic college preparatory community committed to providing religious formation and an academic program of excellence for young women and men of the Northwest suburbs of Chicago.
Viatorians serving at SVHS: Associates Cathy and Don Abrahamian, Fr. Dan Hall,  Associate Joe Majkowski, Fr. James Michaletz, Fr. Arnold Perham and Fr. Dan Lydon.
Beaverville: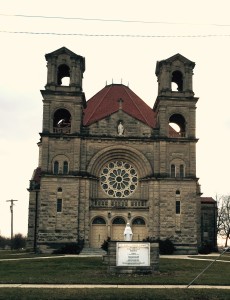 St. Mary's Church
308 Saint Charles St.
Beaverville, IL 60912
(815) 435-2432
Website: stmaryschurchbeaverville.com
In 2014, Fr. Daniel Belanger, CSV, was asked to become pastor of the historic St. Mary's Church, along with pastoring its neighboring parish, St. George Church. St. Mary's was founded in 1857 by a group of French Canadian families, who traveled down the St. Lawrence River and across the Great Lakes in search of farmland. The church now serves approximately 100 farm families who continue to work to preserve the church, known as the "cathedral in the country" and in 1996 parishioners successfully had it placed on the National Register of Historic Places. Fr. Dan is the only priest serving the community.
Bourbonnais:
Maternity of the Blessed Virgin Mary Church
308 E. Marsile Street
Bourbonnais, IL 60914
Phone: 815-933-8285
Fax: 815-933-8289
Website: http://www.mbvmchurch.org/
Maternity BVM is the first permanent Viatorian parish in the United States. Fr. Pierre Beaudoin, Br. Augustin Martel and Br. Jean-Baptiste Bernard, the first Viatorians, arrived in 1865.
The current church is the third church to be built on the site. The first church was a log church built in 1842; the second was built in 1851-52 to replace the log church which had become too small. This church burned in 1853 under suspicious circumstances. The third, is the present church built in 1855 by the parishioners themselves who quarried the stone and hewed the wooden beams.  Not a single nail was used in the construction of the church.
Viatorians serving at Maternity BVM: Associates John Ohlendorf and Patty Wischnowski, Fr. Jason Nesbit, and Fr. Richard Pighini.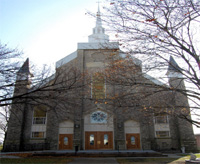 St. George Church
5272 E. 5000 North Road
Bourbonnais, IL 60914
Phone: 815-939-1851
Fax: 815-939-2777
Website: 

www.stgeorgeil.com

The first stone structure of St. George Church was built in January 1869 and destroyed by a tornado in April that same year. In 1872, the parishioners  volunteered time and expertise to build the church, whose outer walls survive today. The church was gutted by fire in 1959, but the new church emerged within the stone walls of the 1872 church and was dedicated by Bishop McNamara in 1960. Viatorians serving at St. George: Fr. Dan Belanger, Associates Susan and David Surprenant, and Associates Curt and Kathy Saindon.
Chicago:
St. Viator Parish
4170 W. Addison Street
Chicago, IL 60641
Phone: 773-286-4040
Fax: 773-286-4122
Website : www.stviatorparish.org
The Viatorians founded St. Viator Church in 1888 outside the city limits of Chicago in the Irving Park neighborhood. The parish moved to its present location on Addison Street in the early 1900's. The cornerstone of the present church, rectory and convent was laid in 1927 and and dedicated by Cardinal George Mundelein in 1929.
Viatorians serving at St. Viator:  Associates Jackie Dupon, Betty Faraci, Linda Nishi, Hector Obregon-Luna, Susana Tellez and Ivy Vera, Fr. Patrick Render and Fr. Moses Mesh.
Kankakee:
St. Patrick Church
428 S. Indiana Avenue
Kankakee, IL 60901
Phone: 815-932-6716
Fax: 815-932-2585
Website: www.stpatrickkankakee.com
St. Patrick Church began in 1891 when the Catholic Columbian Association assembled and formed a building committee which chose the lots of the present location. Church construction began in 1892 with the first service in the new building held on March 11, 1894.  The Romanesque style limestone building is 135 feet by 60 feet originally designed to seat 600 worshipers for an original cost of $35,000. The Clerics of St. Viator began serving at St. Patrick's in 1931.
Viatorians serving at St. Patrick Church: Associates Michelle and Ken Barrie, Associate Marilyn Mulcahy, Fr. John Peeters, Fr. Fredy Santos and Fr. Donald Wehnert.
McHenry:
Villa Desiderata Retreat Center
3015 N. Bayview Lane
McHenry, IL 60051-9641
Phone: 815-385-2264
Located in McHenry, IL on seven acres of serene woods on the shores of the Pistakee Bay, the Villa was originally a summer home for the Viatorians. Fr. Gene Lutz began offering retreats for inner city youth in 1965.  In the 1970's, the Center was opened to members of recovery groups. Br. Pat Drohan has continued in Fr. Lutz's footsteps.  He has been ministering at the Villa since 1963 and is considered the backbone of the Center.
Rock Island:
Alleman High School
1103 40th Street
Rock Island, IL 61201
Phone: 309-786-7793
Fax: 309-786-7834
Website: www.allemanhighschool.org
Viatorians began teaching at Alleman High School in 1953 and assumed responsibility for operation and administration of the school in 1967. Alleman is a Catholic college preparatory school currently administered by the Diocese of Peoria. Fr. Daniel Mirabelli, who has been on the faculty/staff for nearly 50 years, is the Director of Development.
St. Anne:
St. Anne Church
230 N. Sixth Avenue
P.O. Box 470
Saint Anne, IL 60964
Phone: 815-427-8265
Fax: 815-427-8267
St. Anne Church was founded in 1851, and the present church was built in 1872. The Clerics of St. Viator have been charged with the direction of the Parish since 1920.  In 1856, the founder of the Village and the Parish, Fr. Charles Chiniquy was sent to start a parish for the large number of French Canadians that had settled in the area.. After arriving, Fr. Chiniquy began to question many of the beliefs of the Catholic Church. After many difficulties he was excommunicated by the Catholic Bishop of Chicago. Fr. Chiniquy led the larger part of the parish into schism and eventually affiliated with the Presbyterian Church. Fr. Chiniquy sued in civil court for the parish church. He won the suit, and the Catholic remnant had occasional Mass in cabin homes served by a priest from Beaverville. The present church grew from that remnant. The Clerics of St. Viator were called from Montréal as orthodox Catholic teachers to combat the influence of Fr. Chiniquy. The schism at St. Anne was the moving force behind the Clerics of St. Viator's mission to the United States. Fr. James Fanale is the current pastor of St. Anne Church.
Waukegan:
Cristo Rey St. Martin College Prep
501 S. Martin Luther King Jr. Avenue
Waukegan, IL 60085
Phone: 847-224-6895
Fax: 847-244-8237
Website: https://www.cristoreystmartin.org/
Cristo Rey St. Martin College Prep is a Catholic co-educational college preparatory school. As a Cristo Rey Network school, education is made affordable through each student's participation in the Corporate Internship Program. Students work five days a month at a corporate partner to offset the cost of her/his education.  In turn, each student experiences a real workplace environment.
Viatorians currently serving at CRSM: Associate James Thomas, board member, and Fr. John Milton, physics consultant.