Rev. Thomas A. Kinney
Jul. 22, 1922 - Dec. 4, 1991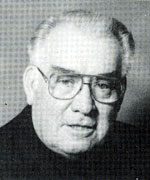 Rev. Thomas A. Kinney, CSV died on Wednesday, December 4, 1991. Father Kinney was found dead in bed at Our Lady of Las Vegas Church in Las Vegas. He was 69 years old.
Thomas Aloysius Kinney was born in Baring, Missouri on July 22, 1922. After graduating from Atlanta High School in Atlanta, Missouri, Tom joined the Viatorians in January of 1943 and pronounced his First Vows on June 28, 1944. After receiving his degree from St. Ambrose College in 1947 and studying Theology at St. Thomas Seminary in Denver, Tom was ordained to the priesthood on May 25, 1951 at Conception Abbey in Conception, Missouri.
Father Kinney's early years in ministry were as a teacher at Spalding Institute in Peoria, St. Philip's in Chicago, Cathedral Boys High School in Springfield and St. Patrick High School in Kankakee. In 1959 he began a number of years of ministry as a hospital chaplain at St. Joseph's Hospital in South Dakota, at Manteno State Hospital and at St. Elizabeth Hospital in Hannibal, Missouri. He also served as Associate Pastor in a number of parishes beginning in 1965 at St. Joseph's in issouri, St. Brendan's in Florida and St. Bonaventure in Marsiline, Missouri. In 1973 Tom enrolled in a Chaplaincy accreditation program at St. Elizabeth Hospital in Washington D.C. and began a ten year career as a Veterans Administration chaplain and substance abuse counselor at St. Joseph Hospital in Chicago, Veterans Hospitals in Marion, Indiana and in North Chicago, Illinois. In 1984 Tom moved west to Las Vegas and initially served as Parochial Vicar at Holy Family Parish and at St. Viator Parish. Since 1988 he served as the founder of New Freedoms, a Las Vegas program for substance abuse counseling. He served as a counselor in the program and was involved in New Freedoms at the time of his death.
Visitation was held on Saturday, December 7, 1991 at St. Viator Parish, Las Vegas, from 9:00 to 11:30 a.m. The Funeral Mass was celebrated at 11:30 a.m. A visitation was also held at the Province Center in Arlington Heights, on Monday, December 9, 1991 from 4:00 to 7:00 p.m., followed by the Mass of Christian Burial. Prayers were said on Tuesday, December 10, 1991 at 11:00 a.m. in the Interment Chapel at Queen of Heaven Cemetery. Burial was in the Community plot. Father Kinney is survived by a brother William and two sisters Mrs. Mary Maupin and Mrs. Pauline Weir.
Remember Tom in your prayers and, gather as a Community to remember him at Eucharist.
Taken from letter to the Viatorian Community on December 4, 1991 from the Provincial, Rev. Patrick W. Render, CSV