Bogotá, Colombia: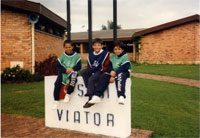 Colegio San Viator
Apartado Aéreo 102413
Bogotá 10, D.C.
Colombia, South America
Phone: 011 571 676-0957/676-0296/676-0997
Fax: 011 571 676-5883
Website: www.sanviator.edu.co
Colegio San Viator was founded in 1963 to provide a quality Catholic education for young men. In 2012, it began transitioning into a co-educational school, and in 2016 it began the process of being accredited as an International Baccalaureate School. Colegio San Viator seeks the balanced development of students as a way of bringing about personal and social change. One of the goals of the school is to graduate its students with solid human and Christian values who are intellectually prepared to successfully deal with the advances taking place in the world.
Viatorians currently serving at Colegio San Viator: Fr. Alejandro Adame, Br. Fredy Contreras, Fr. Felipe Montes, Br. William Pardo, Fr. John Pisors, Br. Edwin Ruiz, Br. Juan Carlos Ubaque, and Fr. Albeyro Vanegas.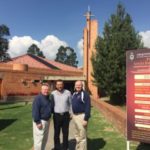 Parroquia Santa Inés
C.C. S. Pedro L-3 Colombia, Bogotá
Phone: (57) (1) 6765005Viatorians further expanded their ministry in Colombia in 2014 by accepting the administratin of Parroquia Santa Ines, located in the sector of Guaymaral, north of Bogotá. In addition to consolidating many activities at the parish and improving its facilities, Fr. Frank Enciso, its first Viatorian pastor, established a chapel of adoration of the Blessed Sacrament.

Parroquia San Viator
Torremolinos, Lote 3 Via Arrayanes
Bogota, D.C. Colombia
South America
Phone: 011 571 354 4385

Viatorians furthered their commitment to the people of Bogota, with the latest plan to build a new parish, St. Viator. Fr. Edgar Suarez, CSV, superior of the foundation already serves as pastor of the new parish, celebrating Mass with parishioners under a tent. Fundraising for the proposed church began in 2014 and continues. Fr. Frank Enciso, CSV, also lives in residence at the parish and assists in ministry.
Tunja, Colombia: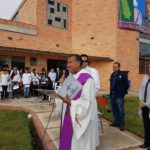 Colegio San Viator, Tunja
Avenida Universitaria # 62-100
Barrio La Villita
Tunja, Boyacá Colombia
South America
Tel 011 57 8 745 9984
Cell 011 57 310 767 6260
Email colsanviatortunja@gmail.com
Viatorians furthered their presence in Colombia in February, 2017, when they opened a second school in the country, Colegio San Viator, Tunja. Set amid the Eastern ranges of the Colombian Andes, the school is co-ed and serves kindergartners through high school students. It also features all the qualities of a Viatorian education, namely one that is faith-based, co-educational, bilingual and pastoral, with professed Viatorians on staff. Fr. Pedro Herrara, CSV, serves as president. Fr. Fredy Contreras, CSV, serves as vice president of the school, while Br. Juan Carlos Ubaque, CSV, works in Campus Ministry.